VOLUNTEER IMSC STAGE CREW

WHEN WE FINALLY BECOME SAFE FROM THE COVID-19 PANDEMIC

VOLUNTEERS WILL ALWAYS BE NEEDED FOR THE IMSC STAGE CREW!

Our actors may be the people in the spotlight on stage but they aren't our only Iron Mountain Stage Company stars!

IMSC is looking for new volunters to help us in many diverse talent areas, especially for the various backstage supporting operations that actually enable "the show to go on."

So click the link below and volunteer online to become a member our Iron Mountain Stage Company Stage Crew family! We'll contact you back to follow-up with you.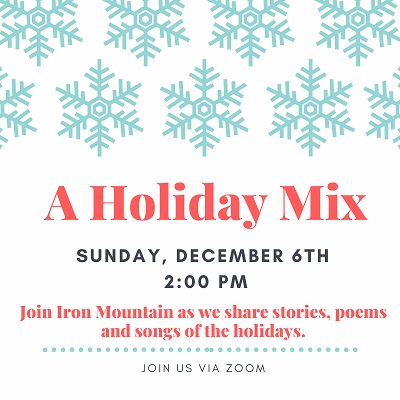 Iron Mountain Stage Company will be performing this Holiday Mix 2020 version online via Zoom so that our audience members may safely view and enjoy the show in the safety and comfort of their own homes.
Zoom session information will be made available for audience Zoom members after all online ticket requests have been processed.
All Holiday Mix ticket requests must be submitted online here.
Check back here for more information.
Click here to become an IMSC email subscriber
so you can receive our IMSC News & Announcements, or Audition Notices, via email!