VOLUNTEER IMSC STAGE CREW

VOLUNTEERS ARE ALWAYS NEEDED AND WELCOME FOR THE IMSC STAGE CREW!

Our actors may be the people in the spotlight on stage but they aren't our only Iron Mountain Stage Company stars!

IMSC is looking for new volunters to help us in many diverse talent areas, especially for the various backstage supporting operations that actually enable "the show to go on."

So click the link below and volunteer online to become a member our Iron Mountain Stage Company Stage Crew family! We'll contact you back to follow-up with you.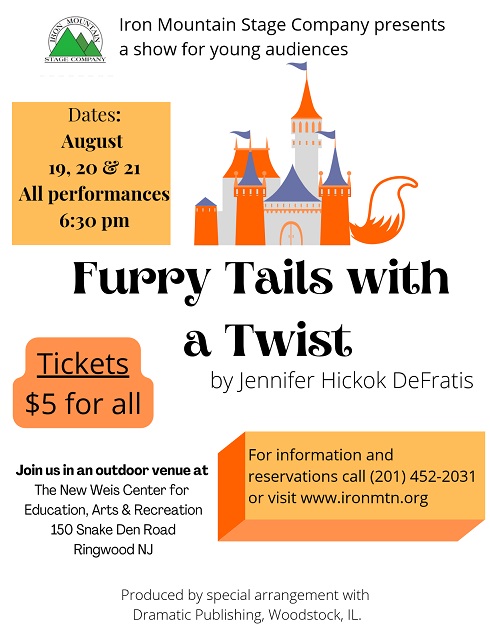 Furry Tails With a Twist is show filled with charm and energetic humor. Creative storytelling drives the action and the audience partners in the tales. Follow the adventures of the bumbling troupe of actors trying desperately to present a few of the world's most beloved fairy tales. Unfortunately, their script becomes seriously scrambled and they perform "Goldisocks and the Three Wolves," "The Three Billy Trolls Gruff," and "The Three Little Bears," who end up battling the Big Bad Billy Goat to delay the decimation of their domiciles. In addition to entertaining with humor, slapstick and charm, the actors also guide the audience through the creative world of story structure, writing vocabulary and theatrical staging. It takes the whole audience to set the stories straight! In the end, both the actors and the audience have learned creative tale telling through these furry tails … er … fairy tales.
Show dates are:
Friday, August 19 - Saturday, August 20 - Sunday, August 21
All Shows 6:30 PM
Check back here or at IMSC on Facebook for more information about upcoming IMSC shows.
Click here to become an IMSC email subscriber
to receive our IMSC News & Announcements and also our Audition Notices via email!